Buy Uwell Caliburn X Pod Kit At The Best Price In The UAE
Uwell Caliburn X Pod Kit is a new pod system from the Caliburn series. The Caliburn X is powered by an internal 850mAh battery for all-day vaping and has a button-activated firing mechanism with a maximum 20W output. The Caliburn X is made from a sturdy but lightweight aluminum alloy and has an intuitive firing button, an OLED display panel, a juice viewing window, and a side airflow switch. The Caliburn X Pod holds up to 3.0ml of your favorite E-liquids or nicotine salts through the top-filling mechanism and works with the famous Caliburn G Coils to produce flavorful, smooth vapor.
Uwell Caliburn X 20W Pod System Features:
Dimensions: 107.4mm by 27.5mm by 15.6mm
Battery: Integrated 850mAh
Wattage Range: 5-20W
Aluminum-Alloy Chassis Construction
Pod Capacity: 3mL
Fill System: Top Fill
0.8ohm Caliburn G Coils
1.2ohm Caliburn G2 Coils
Intelligent Resistance Detection
Low Power Protection
8s Vaping Overtime Protection
Charging: Type-C Port
Colors: Matte Black, Lilac Purple, Moonlight Silver, Ink Blue, Lake Green, Ribbon Red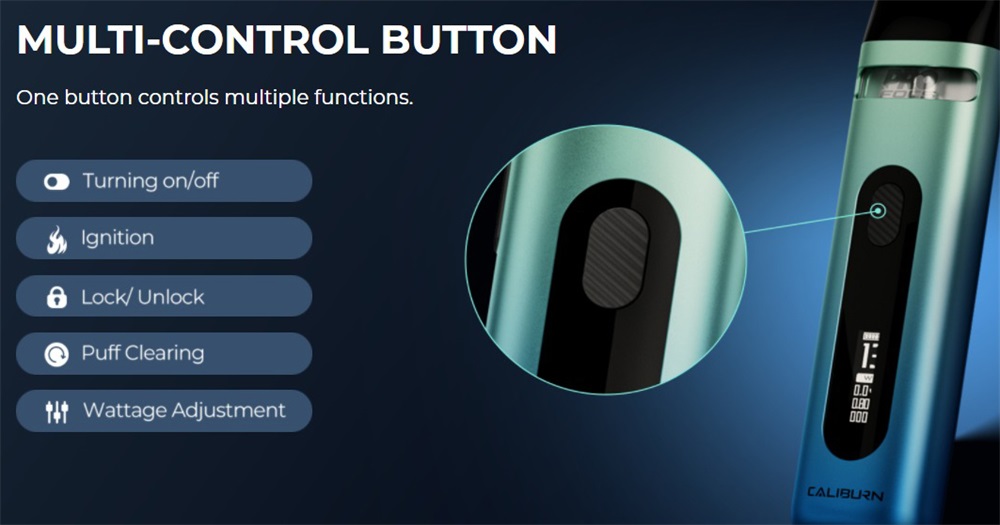 Uwell Caliburn X Pod System Review
The CALIBURN X pod system is a new, multifunctional addition to the CALIBURN line. The CALIBURN X is a potent device because of its output power and adjustable airflow capabilities, OLED screen, and 850 mAh battery capacity. It is excellent for those who want multifunctional products.
Uwell Caliburn X 20W Pod System is compatible with three CALIBURN G coils: the 0.8 meshed-H CALIBURN G coil, the 1.2 meshed-H CALIBURN G2 coil, and the 1.0 meshed-H CALIBURN G coil. All of these coils will provide a unique vaping experience. CALIBURN X features a higher battery capacity and a more fantastic output power range than its competitors. The power range and coil configuration of the CALIBURN X produce a vaping experience similar to that of a pod mod.
Package Includes:
1 x Caliburn X Device
1 x Caliburn X Pod
1 x 0.8ohm Caliburn G Coil
1 x 1.2ohm Caliburn G Coil
1 x USB Cable
1 x User Manual
Shop Caliburn X Pod Device Online in UAE
Uwell Caliburn X Pod Kit is available to order online from TVWH stores with a quick delivery service in the UAE, Abu Dhabi, Dubai, Al Ain, Ras Al Khaimah, Ajman, and Sharjah.